Christmas 2022 in Malaga: Enjoy the Cocktails Through the Most Premium Tour
It is already that moment of the year when the mood is one of joy and excitement. Yes, it is Christmas and what it entails: making gifts. If you are staying in our Malaga apartments, we propose you live these dates differently to delight your senses. We want to celebrate this moment with a cocktail tour across our rooftop bars. Gift or self-gift? It is up to you.
The route around Malaga, with which you can indulge your cocktail cravings, will be available throughout the Christmas period: from November 26th to start warming up until January 6th. The tour will pass through the 4 rooftop bars of Grupo Premium, which means that ours are included: La Terraza de San Juan and La Terraza del Quizás. Keep on reading to discover more details!
A Cocktail Tour in The Very Heart of Malaga
As we said, this experience is slightly different, and if you feel like trying something new, you're lucky! We will serve the most Premium cocktails in our 4 rooftop bars. Rest assured that sensations and flavours won't disappoint you.
At La Terraza de San Juan, you can fully live the Christmas atmosphere with La Nariz de Rudolph: give your palate a fruity touch with this cocktail elaborated with Licor 43, cranberry syrup, a twist of mint syrup, and lime juice.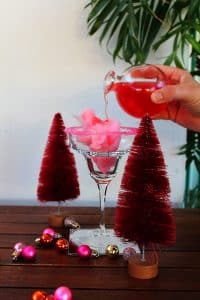 Even in Malaga, you can travel as far as possible: the limit is your palate. At La Terraza de la Alcazaba, we suggest you have something more outrageous and oriental that will be a genuine experience. Estrella de Oriente stands for contrasts and represents the most colourful side of Christmas: let yourself be carried away by the taste of its unusual combination of disaronno, pineapple, grenadine, lemon, egg, or stillabum and mint.
These are only 2 of the Grupo Premium rooftop bars. Still, you can enjoy these Christmas cocktails on the terraces of our holiday apartments, located in the city's heart.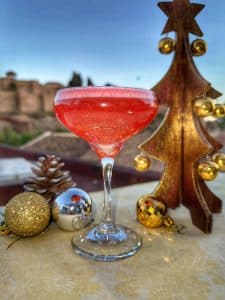 The Cocktail Tour Continues at the Rooftops of Our Holiday Apartments
La Terraza del Quizás is located on the sixth floor of our apartments, meaning that you can enjoy your Christmas cocktail while gazing at the centre of Malaga from the heights or even enjoy the famous golden hour, mirroring the city's famous Christmas lights. An ideal combination, don't you think so?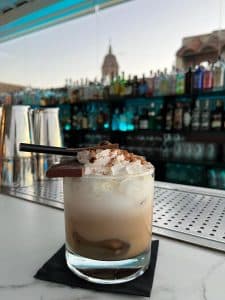 Step into Christmas in a colourful and bohemian space for a Christmassy cocktail. Yes, we are talking about Bombón de Navidad. This treat for your palate will make you travel back in time, remember moments, and recall smells and flavours… pure intensity thanks to its ingredients, as it has been made from coffee liqueur, vodka, cream, and vanilla. Experience it yourself and come and try it.
Suppose you want to depart from the conventional. If you're going to make a difference, drop by our other rooftop bar: La Terraza de San Telmo. Its setting will take your mind to the most exotic and faraway environments. Watch out, however, or the Grinch will steal your Christmas spirit. We warn you: the blast of flavours with tequila and the touch of melon, lime, ginger, and orange liqueur will be overwhelming. Will you dare to enjoy this bizarre delight?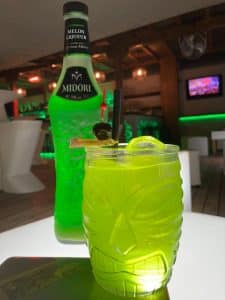 Premium Christmas Is Full of Surprises!
At the beginning of this cocktail experience, we will give you a card as a credential that we will stamp as you try each of the drinks. To do this, you must scan the QR code on the card and then fill in the form on the link. We will reward you with a tasting for two people at La Fábrica de Cerveza for completing the whole tour.
Participate in a raffle to win hotel nights, tasting menus in our exquisite Premium restaurants or private spaces with bottles on our rooftop bars. Of course, you are eligible for more prizes if you also fill in our survey. Stand out and make a difference this Christmas in Malaga with a unique experience.